Intune auto MDM enrollment for devices already Azure AD joined
Intune auto MDM enrollment for devices already Azure AD joined
Today I spend some time to enrol existing azure ad joined devices into Intune. These devices were azure ad joined without Intune enabled/configured.
There are 2 ways to make sure the device will be registered in intune
Group Policy: Computer Configuration > Administrative Templates > Windows Components > MDM.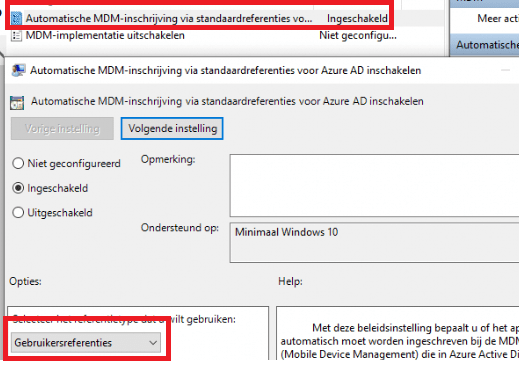 2. Registry:
Windows Registry Editor Version 5.00
[HKEY_LOCAL_MACHINE\SOFTWARE\Policies\Microsoft\Windows\CurrentVersion\MDM]
"AutoEnrollMDM"=dword:00000001
"UseAADCredentialType"=dword:00000001
When you apply these changes. You will notice a new Task is being created in the task scheduler.

Give it some time… and the device will register itself in Intune… 🙂