Last Updated on September 7, 2021 by rudyooms
There is some great news about the possibility to force syncing your edge settings.
https://docs.microsoft.com/en-us/deployedge/microsoft-edge-policies
That's some great news, but unfortunately, there is no possibility, for now, to configure these feature within the edge administrative templates in Intune.

But why not create your own policy?
I performed the edge ADMX ingestion like mentioned on this site:
https://docs.microsoft.com/en-us/deployedge/configure-edge-with-mdm#configure-microsoft-edge-in-intune-using-admx-ingestion
But I did not copy the whole msedge.admx file, but only the ForceSync path.

After I configured the new possibility to set this setting, I configured this setting to enabled.

So, now we need to test this setting. When you have deployed this policy check your registry on your test device. You will notice a new policy was added to the policymanager.

Go open edge, you will notice this nice notification: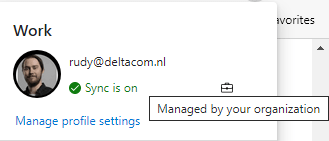 Here is the link, where you can download the JSON and PowerShell script to deploy this policy to your tenant!
https://call4cloud.nl/wp-content/uploads/2020/10/Edge.zip
Conclusion
This is a great addition to making sure your Edge browser is synced with your Microsoft 365 account. I really don't wanted to wait for Microsoft to add this to the administrative templates, so I created my own to test with!