65000 Days of Night
65000 Days of Night
This time a very short blog about an Intune Settings Catalog profile and the error code 65000.
After reading a question on the Microsoft Technet forum I decided to dedicate a blog to it.
Error 65000 with Settings Catalog – Microsoft Tech Community
I will divide this blog into multiple parts:
1.The Problem
So If you don't know the answer immediately, test it yourself! configured the same setting inside my test tenant and manually synced the 2 devices to determine if I would end up with the same error. After some time, I got 1 working device and 1 with the same error.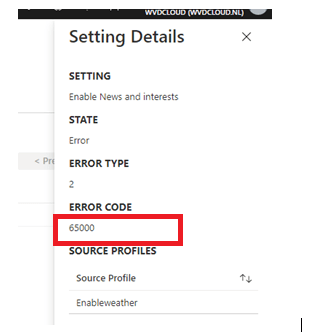 So what does this mean? Googling error code 65000 did not show anything. So up to some troubleshooting!
2. Troubleshooting
When you need to start troubleshooting, normally we need to start to take a look at 2 logs.
Intune Management Extension
DeviceManagement-Enterprise-Diagnostics event log
So which one do we need If we need to troubleshoot Intune device configuration profiles? Correctly answered, we need to take a look at the devicemanagement-enterprise-diagnostics event log! The Intune Management Extension log file is a perfect place to start when you need to troubleshoot other stuff like app deployment failures.
DeviceManagement-Enterprise-Diagnostics event log
Let's open MMC and add the event log. Sync the device from the Intune portal and monitor the event log.
Within a few seconds you will get some more information:

As shown above: The system cannot find the file specified. So what does this mean? It looks like it's missing something… but what? The first place to start would be (in my opinion) the registry. So I did because I could compare 2 devices.
One was working, the other one was giving the 65000 error. Open the registry and open the hklm\software\microsoft\policymanager\default folder
Normally when you need to define some settings the corresponding folder in the policymanager\defaults needs to exists.
So let's check out the device which is giving us the 65000 error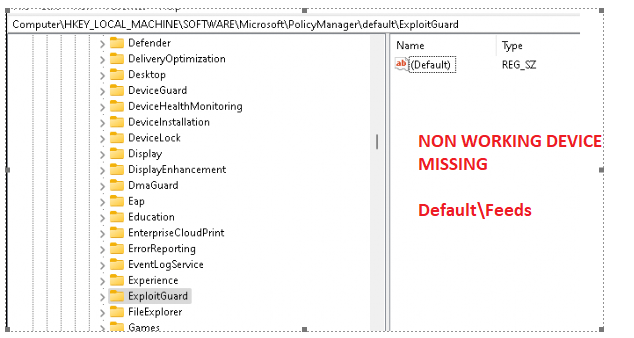 Now let's open a working device and compare them

As shown above, the working device has the required registry keys configured. But why doesn't it exist on that other device? Normally all working building ADMX settings (not ingested ADMX files) should be available inside the c:\windows\policydefinitions folder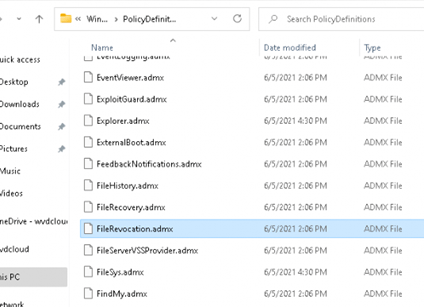 Like you probably have noticed in the picture above, It doesn't exist. I can tell you a very long story or just how it is…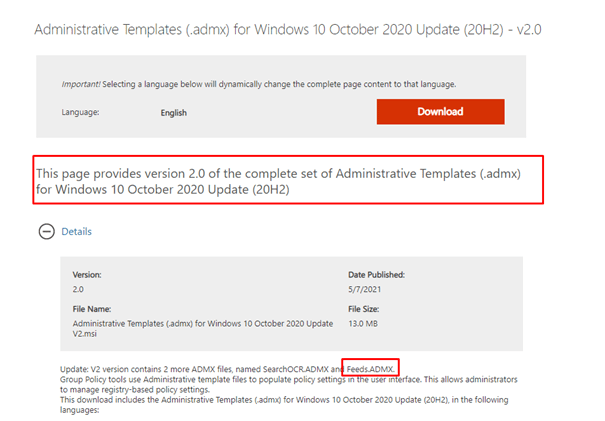 So you need to make sure your devices are up to date (check part 3) so they have the latest admx files installed. Otherwise configuring settings in Intune will not be enabled on your devices because it's just missing the information on how to do so!
And if you are still experiencing these kinds of errors, please make sure you install the KB5005101 update.
This update will enable over 1400 new mobile device management (MDM) policies. With them, you can configure policies that Group Policies also support. These new MDM policies include administrative template (ADMX) policies, such as App Compat, Event Forwarding, Servicing, and Task Scheduler.
3.Another licensing problem?
When talking on the TechNet Forum and looking at the Event log which was shared we determined that on his devices there was something else going wrong.
MDM PolicyManager: Policy is rejected by licensing, Policy: (FeedsEnabled), Area: (Feeds), Result:(0x82B00006) Unknown Win32 Error code: 0x82b00006.
So it really looks like this Settings Catalog Policy is only supported on Windows 10 Enterprise/Education devices? Even when the Microsoft Documentation of the CSP is telling us it is supported on Windows 10 Pro devices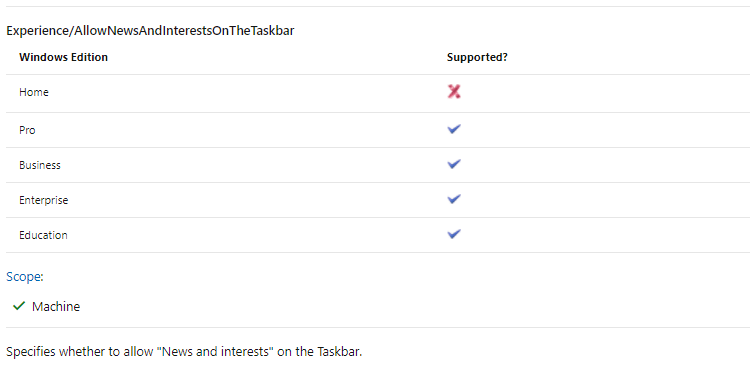 But I guess it all depends on which Windows 10 build version you are using. A lot of settings aren't supported on Win 10 20H2 in combination with Business licenses. A lot of these settings catalog features will only be available in 21H2.
Conclusion:
Knowing how to troubleshoot is necessary so you can come up with a good answer in no time. But then again, a lot of settings inside the settings catalog are telling us you need to have the insider preview installed so why not giving us a little hint about this one?
I guess error 65000 just means no required configuration/settings found or just you are not licenced to use it!