Last Updated on December 24, 2021 by rudyooms
2021… What a Year, what a year. A lot happened and luckily everyone I know is in good health. This time not a technical blog, but one a little bit more personal. I want to dedicate this blog specifically to some stuff that means a lot to me and some other stuff I am very proud of.
Let's start with my first appearance ever on a community show. This fantastic podcast is called Cloud Conversations
I am still very grateful to be asked as one of their first guests on their great show. Thanx Ru and Peter! for having me the in the show! The Terminator question was born!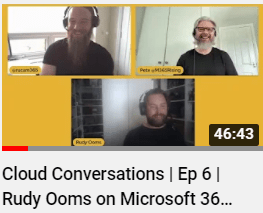 On the first of June 2021, I received this fantastic email from Microsoft. I just didn't believe my eyes when I was reading that email… Even a half year later It is still a weird but great feeling. I can't say it enough but thanks so much Alex Fields and Damien Van Robaeys for nominating me and your kind words! And of course, a "special thank you" to Tina Stenderup-Larsen to believe in me and got me in the program!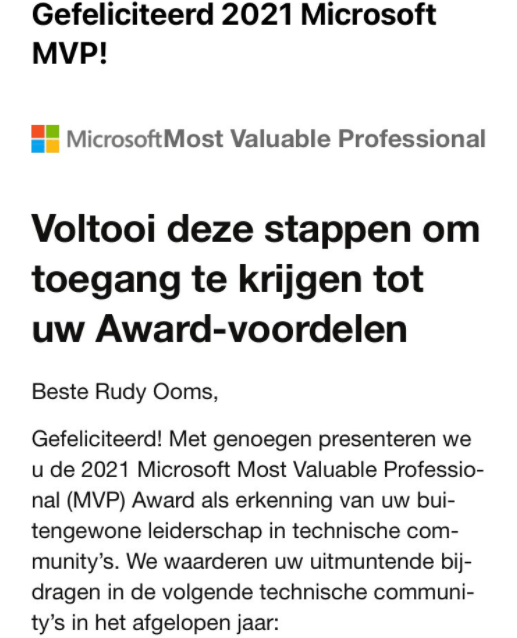 A lot of people asked me what I had to do to get that fantastic MVP award. For me? spending a lot of time getting better at what I was doing and while doing so trying to help out as many people as I could. Even when you don't have answers to their questions at that point, just try to help!.
There are a lot of possibilities on how you could help out the community. Answering questions or spreading knowledge on all kinds of forums is definitely one of them. I guess that's why I was asked to become an Official contributor for this fantastic MEM group on Linkedin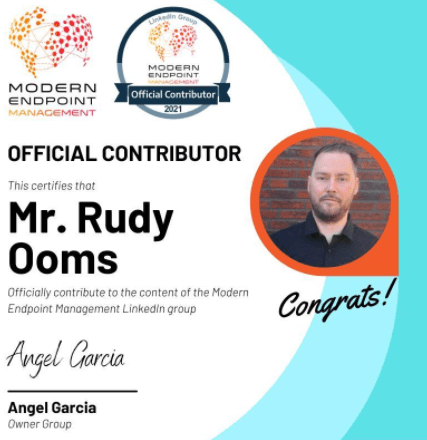 Again many many thanx Angel Garcia! for this opportunity!
By becoming an Official Contributor I had a nice Modern WorkPlace talk with a fellow MVP and OC Mattias Melkersen. Go check it out!
So I became an MVP and an OC in June. I guess in the first half of 2021 a lot of great things already happened, can't argue with that. But one thing really stood out for me after becoming an MVP. Getting my first bug bounty award from MSFT in July! My heart is still trembling when thinking about it.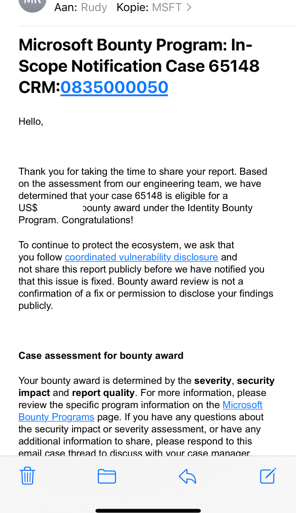 Not to forget the wonderful App Manage Event,

Luckily, we could just visit this Event in person, just before the Netherlands went in lockdown. Finally, I could meet some fellow MVP's in real life. So Jan Bakker, Tim Hermie, and Kenneth van Surksum it was an honor to meet you! But of course, I also could meet some other wonderful persons like Jeroen Burgerhout, the whole Scappman Crew, and Hilbert Hofsteenge
It's a shame you weren't there Jasper Bernaers. I would love to meet you in person, as you know you were the reason I started blogging 🙂
Like Ru told in one of the Cloud Conversations. I am blogging like hell!. Let me explain. I am trying to write as many blogs as possible but still, they need to be good and technical!. These blogs are all about the stuff I run into while troubleshooting and helping people. It will cost a lot of time to make sure those blogs are valid, good, and also kept up to date!
When you want to help people out, there are also other kinds of platforms available.
But there is still one more which is very important when you want to help out. Of course, Microsoft TechNet is the right place to be. I guess trying to get as much involved as I could on this Microsoft Forum got me a nice award in week 50 of December 2021. It's an honor to be listed as a member of the week.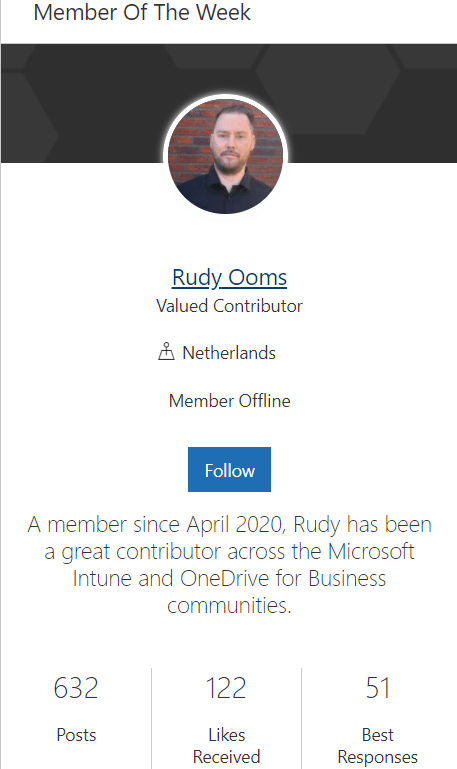 I guess all that blogging and trying to help people out, did some good. I guess or maybe I hope 🙂 people also know me by now as "that guy" blogging about TPM and Autopilot. If not please read them!!!
Attestation and Compliance Series – Call4Cloud
After sending a message to the IT Bro's about the KB update they mentioned in a show earlier, I was invited to join their weekly dutch podcast to explain what that KB was also solving. Please list

So I guess looking at 2021, I met so many wonderful people, some digital and some face to face, we even got a #membeer community, isn't that great?
I can't wait for what 2022 will bring me!
For now, I wish everyone the best, happy holidays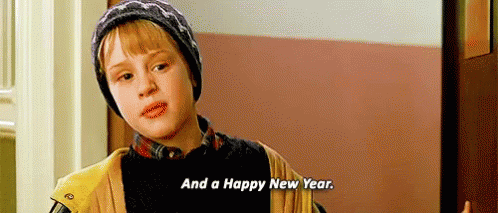 Hopefully, I didn't forget mentioning people 🙂