Last Updated on April 10, 2022 by rudyooms
This blog will be about some issues I encountered with Teams notifications on especially IOS devices. I am writing this blog to make sure people are aware of this issue.
I will divide this blog into multiple parts.
1. Introduction
A couple of months ago, to be specific 01-11-2021 the company I work for decided to replace all the mobile phones with new ones. Some of them stuck to their Android devices but most of them got a nice new shiny iPhone.
Everybody was happy you should say. Everyone with a new iPhone restored their backup from their ICLOUD account or using Quickstart. After spending some time restoring all of our accounts in the MFA authenticator we finally could start using the new iPhone. But after a couple of days, we started noticing some weird issues.
Some colleagues started complaining about Teams and not receiving notifications. The only possibility to receive them was to open the Teams app. After the Teams App was opened, all of the notifications arrived. But the notifications we should receive when the device was locked or the app was closed didn't show!
At first, I thought they had enabled quiet hours or they had turned on do not disturb but after more and more people started complaining I decided to take a look at it. Or maybe because I was also experiencing the same issue.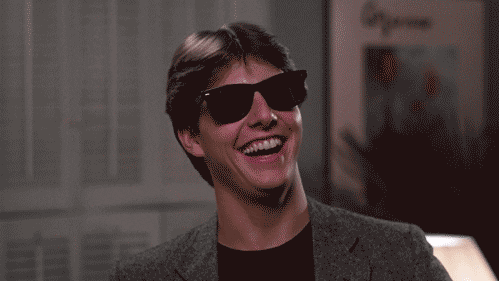 Please note: Only IOS devices were experiencing this notification issue, Android users or the Windows Teams App were still giving notifications as you would expect. Luckily incoming Team phone calls are working and are notifying the user to pick up! Another note to add: Only the Teams App was giving us those notification issues, all other apps (like example Outlook) were still giving us up to date notifications
Let me describe what we tried
2. What did I not tried?
I guess looking at the title of this paragraph, you could say we tried almost everything to fix this issue. But let me sum up what we did try!
-Updating IOS to the latest version
-Updating the Teams App to the latest possible version (even preview mode)
-Made sure Notifications were enabled in the Teams Settings
-Made sure Notifications for Teams were allowed in the IOS settings and selected the Teams App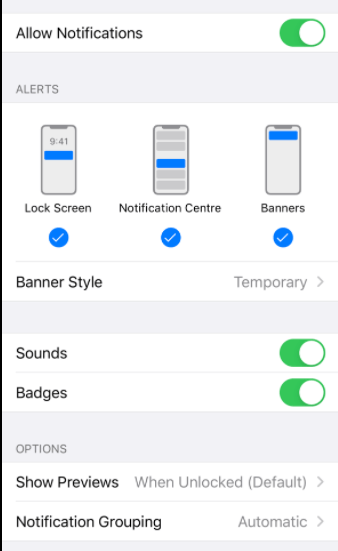 -Made sure quiet hours was turned off
-Made sure do not disturb was disabled
-Made sure battery saving mode wasn't enabled
-Made sure "Block Notifications" when active on the desktop was turned off
-Logging out Of the Teams app and signed back in
-Logging out of the Teams app, removing the app, and reinstalling it again
-Clearing all the storage data and reinstalling the Teams app again
-Clearing all the cache/files in the Teams app and reinstalling the app again
-Removing the User their Microsoft licenses, waiting and reapplying them
-Excluding a user who was experiencing issues from App protection policies (Also take A look at part 4
-Excluding a user who was experiencing issues from Conditional Access (Require Approved App / App protection)
-Removing the MFA authenticator app and the Company portal and trying to reenroll the existing device.
-Enrolling a new wiped (no restore) iPhone and enrolling it into our tenant
-Creating a new user in our tenant and enrolling an iPhone with it –> WORKS!.
3.Something Strange
Okay so we have tried a lot of things to fix it, but by coincidence, I stumbled on something funny. Let me tell you what happened. Besides my company's team account, I also have an additional info@call4cloud.nl account which takes part in some Microsoft Groups.
In the old Teams app version, it was very easy to switch between those accounts, with the latest versions that option is gone! But I needed to check something, to do so I logged out of my own work account and logged in with my info@call4cloud.nl account.
After finding the stuff I needed I forgot to switch back to my own work account and suddenly my iPhone started showing me Teams notifications for my Call4cloud account! I was like huh? What is going on?
So I switched between Teams accounts a couple of times and noticed that on the same phone my @deltacom.nl isn't working but my @call4cloud is giving me notifications.
But besides this funny situation, while putting in a support ticket I noticed that a function to send some diagnostics logs in the Teams app was suddenly removed!
Before I put in a support ticket I was able to produce some diagnostics logs by clicking in the Teams app on my profile picture, navigating to settings, click on help & feedback, report an issue.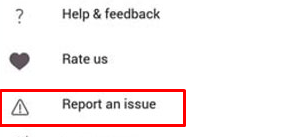 With that option, you could also send this diagnostic log to yourself instead of sending it to Microsoft
That option is now gone, the only thing you could do now is to enable the Diagnostics Logs and click on Send Feedback
4. App Protection
While experiencing this issue for a couple of months now, another Teams Notification issue started occurring: TM324373

Start time: Saturday, January 29, 2022, 2:00 AM (12:00 AM UTC)
End time: Thursday, February 10, 2022, 12:00 AM (2/9/2022, 10:00 PM UTC)
Root cause: A recent update to notification services contained a code regression that caused an impact on users with the Microsoft Intune 'Block Org Data' setting enabled as shown below

You could change this setting to "Allow"
But like I told you in the stuff we tried, this user was excluded from App protection policies, so it didn't get any of those app protection policies applied. Also looking at the start date of the issue: 29 January 2022, we were already experiencing this issue from November 2021.
So unfortunately this Issue and the "weird" fix aren't going to solve it
5.THE Fix?
After sending 30 emails back and forth with Microsoft Support I finally got "THE" answer. Please note that I am still sending emails to get a better explanation. Of course, I will update this blog when some stuff is more clear to me
From the mobile app diagnostic logs I provided (option is now removed), they found out that the Teams iOS app was not able to push the notifications while this is not the case for Teams App on Android devices. To fix this issue, would require some code correction
They have shared their findings with their developer teams. The developer team has acknowledged the problem with Teams app on iOS 15.1.1
From Logs:
2021-12-01T11:14:05.146Z [I-AH]App tray logs – App with id 2a84919f-59d8-4441-a975-2a8c2643b741 is not being shown as the [store app ecs is false] or [app is not whiteListed] or the Manifest version is not supported TSPersonalTabsManager:1146
The fix is scheduled for April month (4/30/2022). The fix would be notified through "Message Centre > (Admin Portal)"
Okay, in almost 6 months we will have no Teams Notifications… that's bad that's way bad!.
I had the honor to enroll in this TestFlight version a little bit earlier! After installing this update all the Notifications issues were resolved immediately!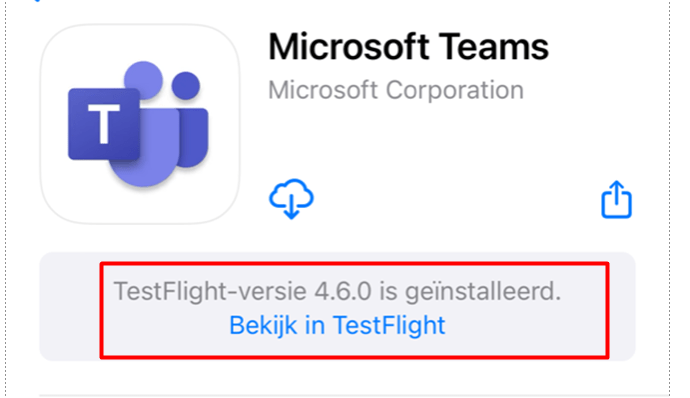 Luckily, as shown below, Teams version 4.6.0 was released 05-04-2022. So if you have any notification issues, please install this update asap!

Conclusion:
Hopefully, this blog will show other people who are also experiencing this bad behavior that Teams IOS version 4.6.0 will fix it!