Last Updated on July 9, 2020 by rudyooms
Are you also tired of explaining to your user's how to restore their e-mails? Or even logging in to their devices to restore it yourself. Microsoft just released a feature enabling admins to recover emails for their user's without taking over their device or having to explain a lot.
Login to the preview portal https://admin.exchange.microsoft.com/#/mailboxes
Select the mailbox in which you want to restore messages.
That's nice… now you'll be able to click on "recover deleted items".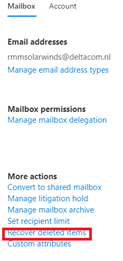 That's convenient, you can search for items and just press "recover deleted items" to recover them. Great balls of fire! Your emails just got restored.

You need to make sure you have the "mailbox import-export management" role assigned. Otherwise the users deleted items folder appears empty.