There will be Office Security
There will be Office Security
Nowadays everyone should be securing their Microsoft 365 Tenant, their identity and the endpoints. Also, hardening your Office 365 apps is necessary because your devices are often targeted by malicious emails/websites.
In one of my latest blogs (the forgotten fruits of securing your Windows 10 endpoint), I pointed out the DIF and Sylk extensions. There is more, much more.
Today I'll show you how to this in Intune:
Open Intune and create a new Administrative Template.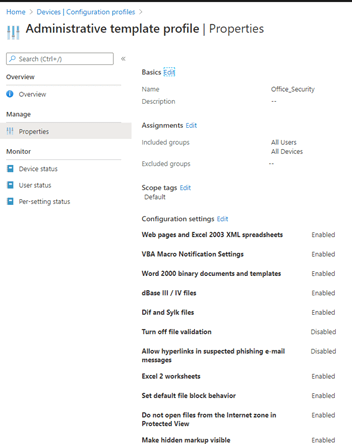 There are about 60 settings you'll be able to configure, that's a lot! Do I really need to configure all of this manually? Luckily we're able to automate most of these settings.
Download the zip file in the link below.
https://call4cloud.nl/wp-content/uploads/2020/06/office.zip
It contains a script with an ADMX folder with all policies. Just run the PowerShell script


When you've run the script, you'll notice a new administrative template has been created with all settings in the device configuration section. I recommend checking all the newly created settings to see how this impacts your organization.

Conclusion
Hardening your office 365 apps is necessary but can be a lot of work when you have to configure it manually on all your Office365 tenants. Luckily, we're able to automate most of it and it's really easy as well. Now go find out for yourself!