Last Updated on August 3, 2020 by rudyooms
Solarwinds announced a collaboration with Microsoft to enhance monitoring and management. And since we use Solarwinds as our RMM solution, I think that's really nice. In this blog, I will try to explain why I think it's useful to use Microsoft and Solarwinds together!
When you have multiple customers, you want to have a single monitoring dashboard. You can simply create a template and attach it to a customer site. When you enrol a new device, the custom made Solarwinds agent (for a specific customer) is installed and the template will be applied. Here are some checks you can add!
LAPS
Like I was mentioning in one of my last blogs about LAPS. There are multiple ways you can implement LAPS. One of them is through the use of Solarwinds.
It's very easy to get the latest local admin password within the Solarwinds dashboard.

But that's not the only reason you want to combine the two forces.
Windows Defender
It would be very nice to get a warning when Windows defender is not up to date.

But what are you going to do with the Windows Defender event log? You'll have to start monitoring it. Make sure you configured some checks to get a warning when windows defender has found malware/virus or when ASR is blocking a specific action.

Bitlocker
You can implement a Bitlocker device configuration or use a custom made intunewinapp. But you have to monitor if Bitlocker is active. Of course, you can add a Bitlocker requirement to your compliance policy. In one of my upcoming blogs, I will tell you my opinion about this subject.

Also, make sure you have some more info like the Bitlocker recovery key in Solarwinds in case the Bitlocker key upload to Intune goes wrong.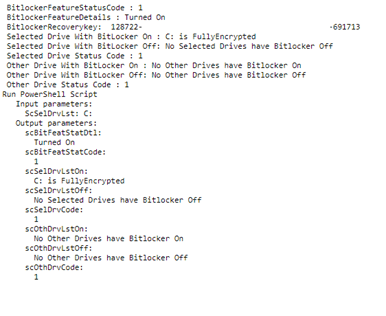 Onedrive
Onedrive is one of the best options for cloud storage, like I was mentioning in this blog.
So, it's really important to make sure Onedrive is installed and running 🙂

Security
Endpoint security is very important, you really want to monitor for anomalies like user creation or if a service was installed.

When you have read my blog about the windows firewall rules, you may want to make sure you are monitoring if the firewall is enabled.

Conclusion:
Solarwinds and Microsoft combining forces is great. I hope you get an idea what kind of checks you can implement. Hardening your endpoint is necessary, but don't forget to monitor the endpoint with Solarwinds. I really want to hear what kind of checks you have implemented when using Solarwinds.